Factoreal provides you the option to set up a two-factor authentication for all the users of your Factoreal account. If enabled, in addition to the login credentials you will be asked to enter a one-time password that is sent to your registered email ID.
To enable/ disable two-factor authentication for your account, perform the following steps:
Click the Settings.
Click Accounts & Users.
Click Roles & Users.
Click the toggle switch to activate (or deactivate) two-factor authentication.
Click Yes.
If enabled, the next time a user logs in to their Factoreal account, they will be prompted to enter a one-time pass code that is sent to their registered email ID.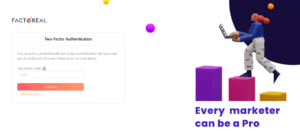 This will provide your account the protection it needs from any sort of data breaches.