Factoreal's Fan Maturity ModelTM, an AI-driven approach that automatically segments your fanbase in real-time to help you drive deeper personalized engagement and enhance your revenue.
Sounds too good to be true?
This model gives you an approach that is tailor-made to fit your fanbase and helps you do the following in a few easy steps: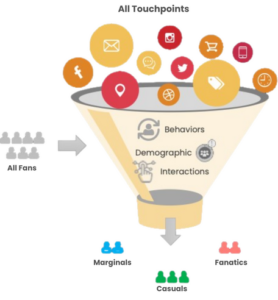 You can assess your current fanbase, segment them based on their activity, analyze your engagement trends, and come up with a plan that aligns with your business goals.
Once you analyze your fanbase and map out the plan, you can set up the Maturity Model on the platform with tailored targets and weightages assigned, based on your readings.
You can then run segment-specific campaigns and journey automations directly from the platform. That's right – multiple campaigns targeted to specific fan segments.
Analyze marketing performance and key metrics in real-time and take a step closer to achieving your goals!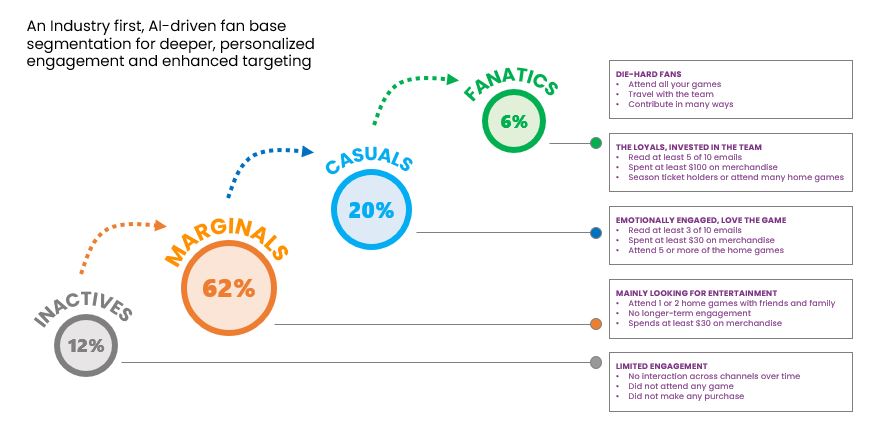 WHY DO IT
Real-time segmentation: The biggest advantage is real-time segmentation, which lets you provide fans what they want. You can increase first-party and zero-party data to create cross-selling and upselling opportunities. You can thus drive direct revenues and build loyalty.
Unified fan data: Life is so much simpler when you get a centralized view of all your fan data at your fingertips. You can combine and store all data collected from website, mobile apps, social media, online and offline events, stores, and even 3rd party systems, and manage it from one place.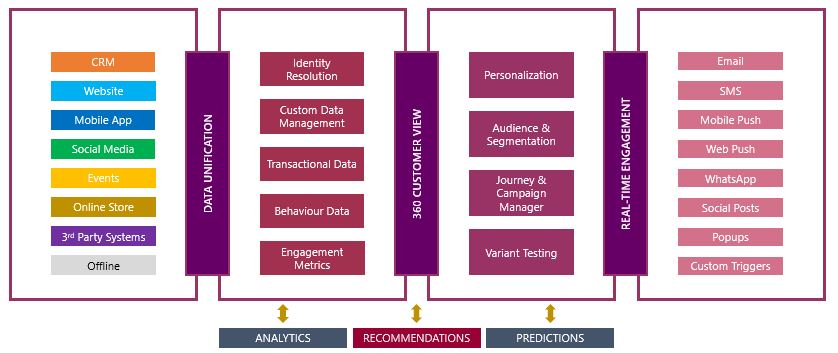 Targeting and personalization: One you automate user segmentation, you'll be able to easily see which users are more active than others and respond positively and promptly to your offers. Target these customers with hyper-personalized messages and follow-ups.
Omnichannel automation and engagement: You can engage with fans via email, reach out to them on their personal numbers via SMS, tap into social media, track and target website visitors, and deploy chatbots across channels to connect with them directly. You can trigger automated messages based on fan behavior.
Conversational UX: You can incorporate chatbots, voice support, and a human agent at the tap of a finger to offer elevated customer service. Engage in multiple, simultaneous conversations through chatbots to improve conversions.
Multiple use-cases: You can drive personalized, targeted, and efficient use-cases such as send game day notifications, enable merchandise sales, share surveys, run contests, drive app installations, run loyalty programs, deliver mobile tickets, empower other businesses, and much more.
Built-in analytics and insights: Get insights like never before at the click of a button. Keep a track on total registered fans, total orders, store revenue, total website visitors, total app installs, fan app usage frequency and engagement trends, inactive fans, and much more.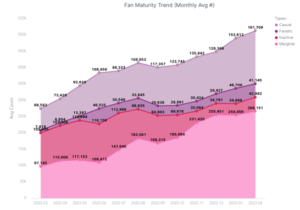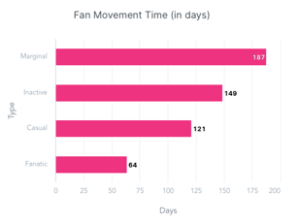 Value-add for partners and sponsors: Use fan data to deliver new business leads to partners to create new revenue streams. Enable fan-sponsor journeys and engagements to skyrocket ROI and increase sponsorship.