Overview
In order to launch email campaigns, you need to use a From email address to launch the campaign. Your From email address is the address you use to send email to your contacts. When contacts receive your emails, the From email address helps to identify you as the sender.
If you choose to use a free email service provider (ESP) like Gmail, Yahoo, Hotmail etc. you can perform the following steps to quickly add them in your Factoreal account.
Click the Settings.
Click Email.
Click Add Senders.
5. In Name, enter the name that you want your recipients to see when they receive your email.
6. In Email, enter the email ID, for example abc@gmail.com.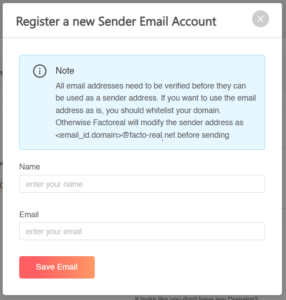 7. Click Save Email.
Once you click save email, there is a verification link that is sent to the email ID you entered above. Check your email inbox or spam folder.  Once you verify the email, your email gets registered with Factoreal and you can start using it to send your campaigns.
We will use factoreal.info or factoreal.co subdomains as the From domain for your email address when you send. Replies from recipients will still go to your From address.
Here's an example of what a From address could look like with the subdomain added.
Original
myflowershop@yahoo.com
With Factoreal's change
Myflowershop.yahoo.com@factoreal.co 
Limitations of using a free service provider
There are some limitations of using these free email service providers for your email campaigns that you should be aware of.
The primary limitation of an email address from a free service provider is that you don't own the domain. This keeps you from having control over that domain's delivery policies.
Free email addresses can't be added to your verified email domains in Factoreal.
Free email address services have policies in place that are meant to prevent email scams but can cause delivery issues for legitimate marketers.
We encourage you to consider purchasing a domain or using a domain you already own to avoid issues with delivery policies. But if you want to continue to use a free domain for email marketing in Factoreal, we will hep you with the delivery rate by adding a subdomain. Y
If you already have a domain, refer the steps listed in this how to connect your email domain with Factoreal article to white label your email domain and then follow the steps in this article to add sender addresses.
For any query, contact us at support@factoreal.com.