Factoreal provides you with pre-built journeys for popular use-cases which you can use and immediately start using journeys.
These have action blocks setup in their workflow and are purpose built for when you want to quickly send a campaign to your contacts for most common use cases.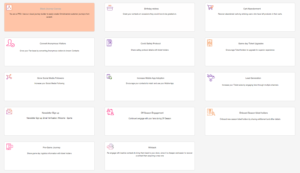 Here you can find various Journey Templates. To simplify this process one step further and segregate the templates based on use cases click on the tags next to Tags.
Birthday Wishes Journey template is for when the purpose of your campaign is to wish your contacts on their birthday.
Cart Abandonment Journey template is to re-engage and try to convince your contacts to complete the purchase of the items in their cart.
Convert Anonymous Visitors template is best for growing more fans and followers.
COVID Safety Protocol is for creating any kind of flow involving awareness and communication pertaining to COVID.
Game Day Ticket Upgrades will be the go-to for sports teams looking to upsell better tickets and/ or add-ons for the existing purchase.
Grow Social Media Followers is there to help you start creating journeys to increase social media following in creative ways.
Increase Mobile App Adoption is tailored specifically for brands looking to grow their mobile app user base.
Lead Generation is for capturing details of potential customers.
Newsletter Signup is best for growing your email list for sending newsletters and offers.
Off Season Engagement is for reviving fan engagement metrics during off-season periods, for sports teams looking to actively invest in fan engagement year round.
Onboard Season Ticket Holders for ensuring a smooth and informative onboarding experience.
Pre-Game Journey is to deliver an engaging live sports experience to fans, on game-day itself.
Winback is for re-engaging with inactive contacts to either revive communication, or remove permanently inactive contacts.
Goal Wizard & Journey Wizard
Building a customer journey can get really complicated when there are a lot of action steps involved. However, with Factoreal's Goal Wizard & Journey Wizard, you can pick a goal and a template associated with that, then have a guided system for building the journey. These work in addition to the standard drag-and-drop journey builder system of Factoreal.
In-case you find the drag and drop journey builder to be harder to manage, which can be the case for larger journeys with more logic steps. The Goal/ Journey Wizard will be your go-to. 
This will be accessible with the wand icon on the journey builder window.

Below is an example of the Journey Wizard interface, with the Convert Anonymous Visitors template.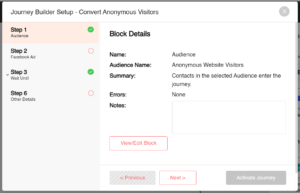 To configure each step to your campaign requirement, click View/Edit Block.

To navigate back and forth between the blocks, click Previous or Next.

Once you have completed the completed the configuration, click Activate Journey.