You are likely to have a lot of contact information that you'd have collected over a period of time and to whom you would like to begin sending emails, and building automations. This segment will explain how you can add your contacts to Factoreal account.
You can import contacts in the following two ways:
Add contacts manually.
Upload contacts in bulk.
Before proceeding further, let's take a look at the various contact dashboards and tabs.
Dashboard
You get overall contact analytics in the Dashboard, like active and inactive contacts, the sources of these contacts, paying and non-paying contacts, Mobile and Web push subscribers and active and inactive contacts when you select the default All date range.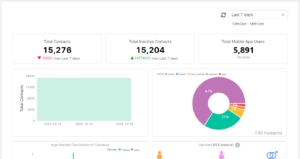 If you select contacts dashboard for a specific pre-defined date range then you get a different set of data which show:
All Contacts
The Contacts tab lists all the contacts you have added to the Factoreal platform (from manual or bulk addition).
You can use the search box to search for a specific contact and perform operations like, edit, move to a list, delete from list or delete permanently.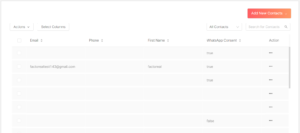 Contact Lists
The Contact List tab provides you with all the contact lists you have used for uploading bulk contacts. Adding contacts to a contact list is a way of grouping contacts into a static list that you can use later to run your campaigns.
For example, all the contacts you have collected by attending a specific event/ webinar you can add them to a contact list say "Google Ads Event".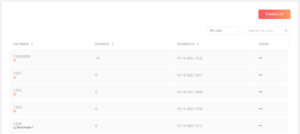 Audience
This tab will show you all the audience segments that you have associated with the contacts in your Factoreal account. You can also create new ones from here.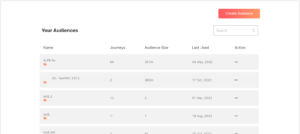 Upload History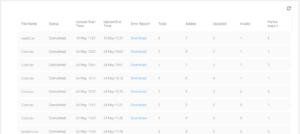 In Upload History, you can view the status of your contact bulk file uploads, like how many contacts were added, updated, and how many were partially imported and how many were not uploaded.
You can also download the error report by clicking Download under Error Report of respective uploads.