Factoreal is a SaaS-based all-in-one marketing automation platform that helps you manage and talk to your clients, customers, prospects and other interested parties.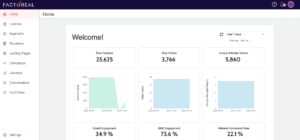 Our approach to marketing focuses on healthy contact management practices, beautifully designed campaigns, and powerful data analysis. Factoreal is built from the ground up to pull in data and make it actionable. Our deep integrations with ecommerce platforms like Shopify is easy to combine with data from other marketing tools to form a single cohesive view of any contact.
Factoreal's web tracking lets you know what your customers are doing on your site, so you can launch a campaign to people who haven't stopped by recently; get in touch with people who have looked at a product but didn't buy; segment based on people who are frequent visitors, and much more.
The help center will guide you through all the operations that you can perform using the Factoreal platform.
Settings & Integrations

Contact Management

Audience Builder

Template Management

Email Campaigns

Social Campaigns

SMS Campaigns 

Journey Automation 

Conversation Bot 

WhatsApp Campaigns
Here are some things to know as you start using Factoreal:
Factoreal is a web-based application that works in most web browsers, which means you don't need to download or install any software on your computer. To be sure Factoreal works properly in your browser, enable cookies, pop-ups, and JavaScript.
It's important to note that when you create a Factoreal account, you agree to comply with our

Terms of Use

.
We offer a number of online resources to provide help and insights about our tools and features.
Here are a few steps that you need to perform to get started.
Set up your Factoreal account.
Integrate your email domain.
Connect your social accounts.
Connect your online store.
Place the Website tracking code on your website.