Factoreal's Marketing Calendar can give you a bird's eye view of all your marketing campaigns/ journeys. This includes channel wise campaigns that you have executed, and upcoming campaigns or active journeys. You can manage your marketing plan more conveniently with the Daily, Weekly and Monthly calendar views.
You can also reschedule your campaigns/ journeys in real time by dragging and dropping each block from one date to another.
With the extensive sorting options available to you will be able to find and link campaigns/ journeys that you or your team has created. This will help you organize your marketing efforts and make it simple for your stakeholders to understand your marketing strategy.
To access the marketing calendar, click on Calendar from the left-hand side panel.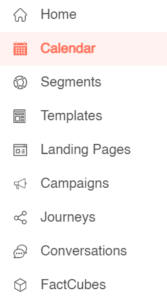 This is how the marketing calendar will look like, and the campaigns (executed or upcoming) will be listed in place of the green ticks.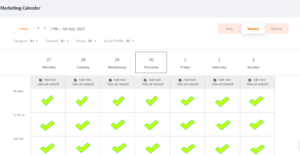 To view different marketing plans by sorting the calendar, perform the following steps:
Click the dates to bring up the date selection chart.
You can select Campaigns or Journeys to view plans for these separately.
To sort by channels, you can select from this dropdown.
Sort by approval status of campaigns/ journeys from this dropdown.
To sort with specific social media pages, you can use this dropdown. NOTE: You need to connect your social media pages to access this.
You can select from – a) Daily, b) Weekly & c) Monthly view of the marketing calendar.
To bring the date selection to the current date, click Today.