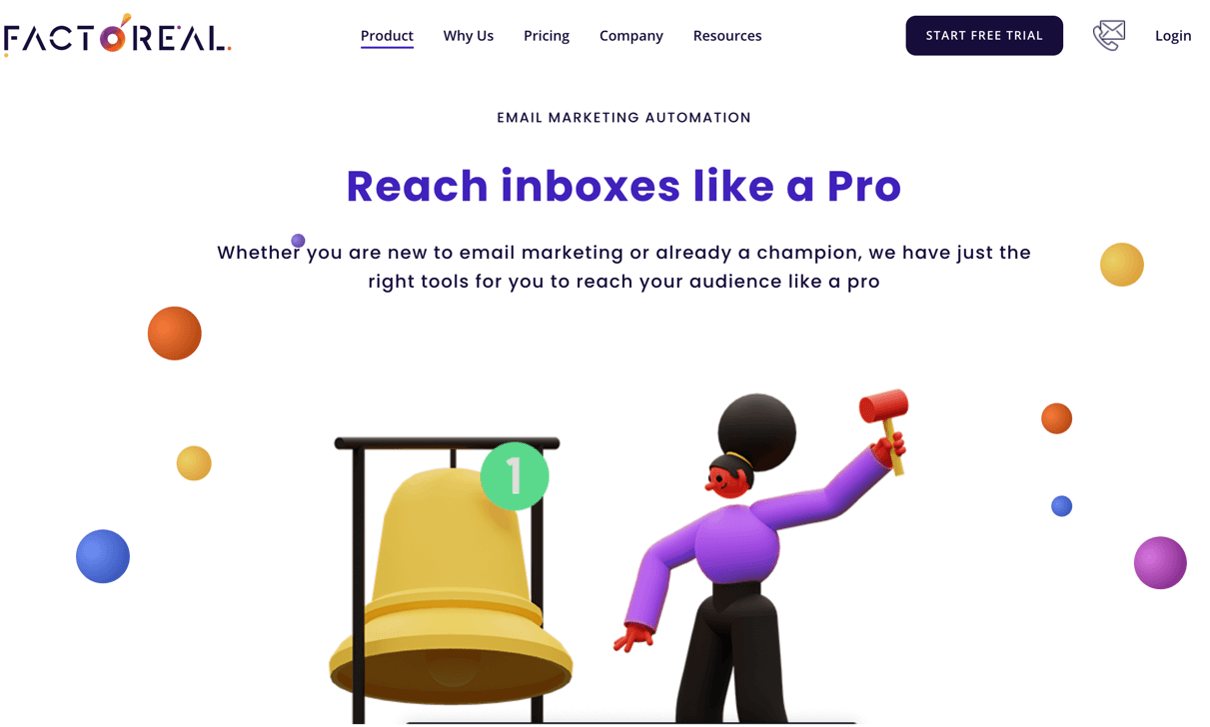 If you own a successful eCommerce store, you may be looking for the next successful marketing tool to help your business grow to the next step. A great way to connect with your customer and deliver significant sales and company updates is through a successful email campaign.
Similar to how social media is an integral part of a successful marketing campaign, an email marketing platform is necessary for an eCommerce store. On average, according to Neil Patel, Email marketing accounts for approximately 23% of sales, rendering it one of the most effective marketing channels at your disposal.
Using a successfully proven platform to handle your email marketing is the easiest way to run a successful email campaign. We've researched for you and found some of the best email marketing services for eCommerce stores out there.
Factoreal
Offering a variety of plans for businesses and a 14-day trial, Factoreal provides the services that your business needs. When you choose Factoreal, you get so much more than email marketing services. As an all-in-one customer engagement platform, users can also enjoy beneficial features like unlimited social posts and ads, website tracking, and SMS marketing.
Our email feature includes an easy-to-use, drag and drop builder enabling anyone to build a visually stunning campaign without the difficulty of a learning curve. If you are worried about whether your campaigns are reaching your customers, use our integrated analytic tool to ensure that your content has the impact you want. Factoreal expertly meshes best-of-breed and all-in-one into an affordable platform.
MailChimp
MailChimp is currently one of the more popular email marketing services on the market, and that's because its branding is pretty recognizable. For those with basic email marketing needs and a modest budget, it might be precisely what you are looking for. Their platform offers multiple tiers, with the first boasting up to 2,000 subscribers and 10,000 emails a month for free.
HubSpot
Like Factoreal, this juggernaut also offers much more than email marketing in their list of services. Hubspot's free plan is great for newer eCommerce stores, but it doesn't include email marketing services. To take full advantage, you will need to upgrade to their starter plan to access their email marketing features. For online shops looking for just email marketing, HubSpot might not be cost-effective out the gate but may be worth investing in after measurable growth.
Omnisend
Save time with Omnisend, where you don't have to build your own campaigns thanks to templates and automation. They also offer a 14-day free trial but convert into a pricier option after that. The entire platform is automated, eliminating most of the time-consuming manual steps present on other media. However, a noticeable perk is that it also easily integrates with apps like Shopify, much to the benefit of smaller operations.
Constant Contact
Constant Contact beats out other competitors in one area, particularly by offering a free, 60-day trial. This email marketing service for eCommerce stores allows you to experience the platform and learn how effective it is for your business before making a real investment. It's also been around longer, with more than 20 years of experience handling email marketing campaigns under its belt.
Factoreal: We Can Help
Finding the perfect email marketing services to suit your eCommerce store's needs can be overwhelming. Hopefully, our roundup of the best email marketing services for eCommerce stores narrows down the list of options and points you toward the right one.
With Factoreal, you get more than marketing tools. You get a proven and successful customer engagement platform backed by a team passionate about helping you succeed. Using our simple tools, we can help you develop the client base your company needs and increase engagement overall.
If you're interested in learning more about Factoreal or our services, please contact us to inquire about becoming a marketing pro today!