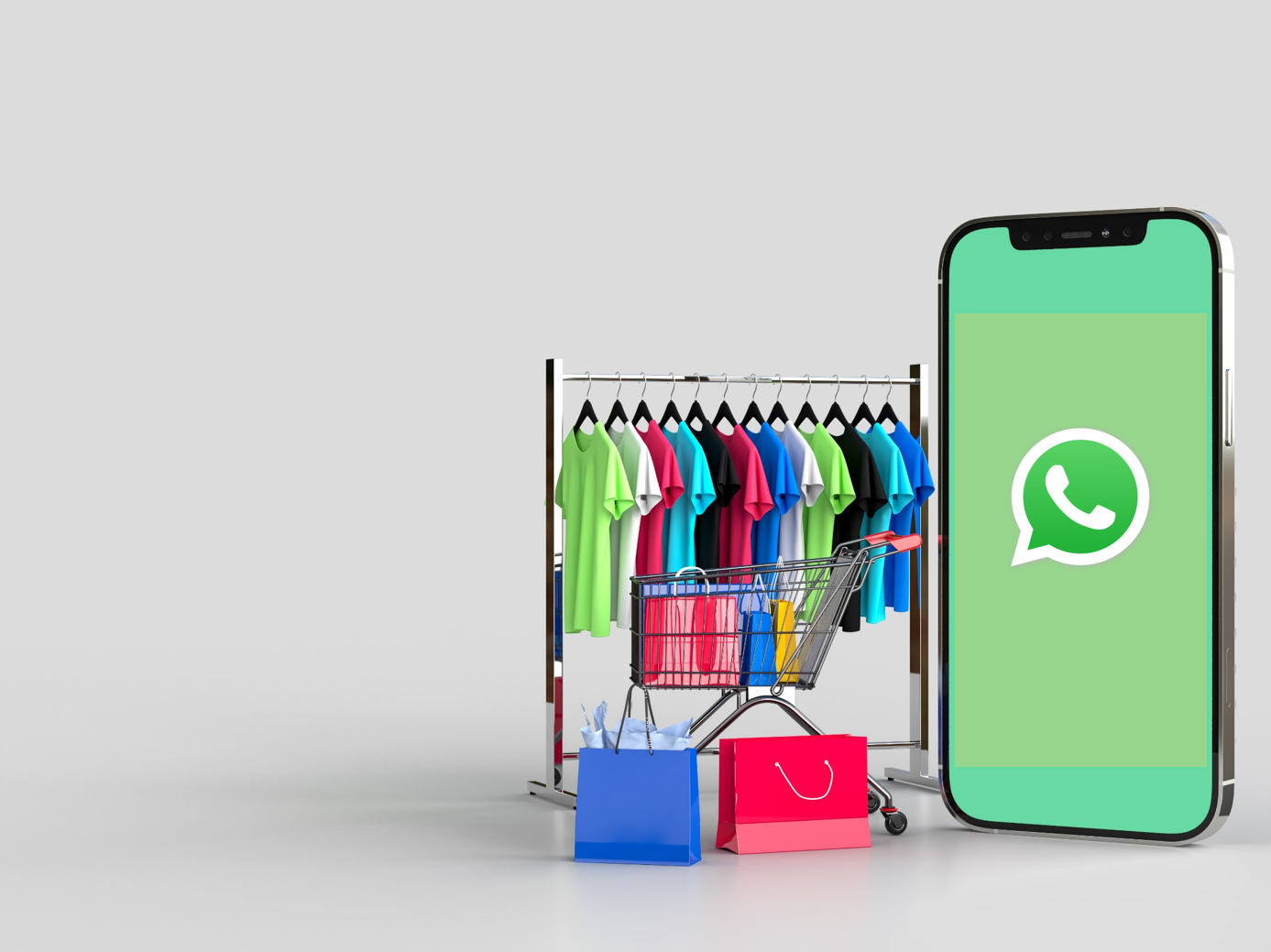 WhatsApp is no more a platform for just messaging family and friends.  Over the past few years, WhatsApp Business has seen a rapid evolution from a good-to-have to a must-have customer communication channel. With over 2 billion users worldwide, it's by far the most engaging messaging app out there. WhatsApp for business is gaining serious traction — over 175 million people interact with a WhatsApp Business account every day.  In this blog post, we'll cover how Factoreal can help you with WhatsApp for commerce and how you can use it to drive e-commerce sales.
Benefits of using WhatsApp for Commerce
From pre-sales to cart management, from purchase to customer care, you can now keep your customers engaged in one channel.
No dependency on WhatsApp message templates and pre-approvals.
Convenient two-way communication.
Customers can browse items and add them to a cart without leaving the chat.
Reduced abandoned carts, increased conversions, and shopper engagement!
Businesses can share two different types of product messages with customers when communicating over WhatsApp:
Multi-Product Messages: Messages containing a selection of up to 30 items from the catalog
Single Product Messages: Messages with a single product item from the catalog
Here is a quick overview of how you can start using WhatsApp to sell your products via Factoreal
Upload product inventory to Facebook (Skip if your business already has a Facebook catalog)
Your business inventory needs to be uploaded to Facebook in a catalog format. There are multiple ways to set up your catalog on Facebook, if your business does not have a catalog set up yet, refer to this article and create your own catalog using the Facebook Commerce Manager
Note that only one catalog per WhatsApp Business Profile is permitted. You can send your customers only the relevant items for their region using Multi and Single Product Messages.
Connect your Facebook product catalog to your WhatsApp business profile
Now that you have a Product Catalog in place, it's time to connect it to your WhatsApp Business Profile.
If your business already has and manages its own Facebook catalog, you can connect your catalog with Factoreal by simply connecting your Facebook business profile. Once your Facebook catalog is connected, our team can then help you connect your catalog with your WhatsApp business profile via Factoreal so that you can start promoting and selling your product on WhatsApp.

Share Product With Customers Over WhatsApp
Now that you have connected your catalog to your WhatsApp Business Profile. You have two options to share products when interacting with your customers.
Multi-Product Messages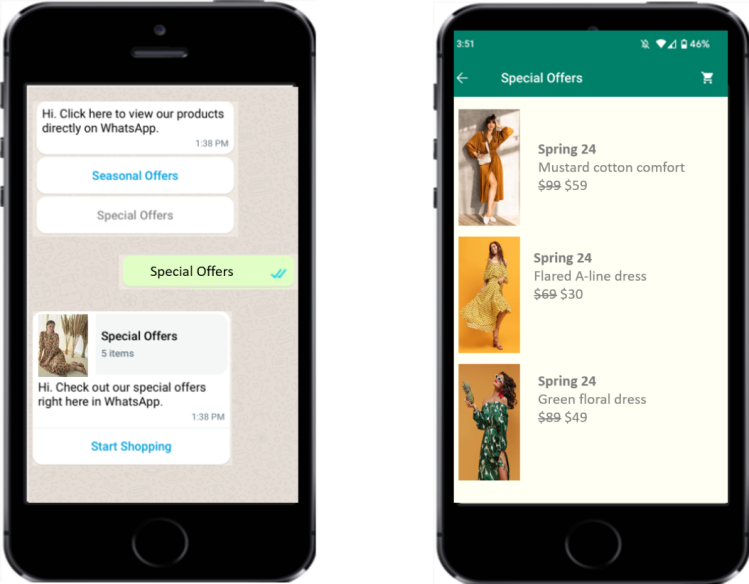 Multi-Product Messages allows a selection of up to 30 items from your inventory. It can be used when your customers want to browse multiple products or services:
Sharing a specific category of products, for example, Summer Collection, Fresh Vegetables, Sports Shoes.
Conversational shopping (When a customer tells you what they want to order, and you send them back a tailored multi-product message. For example, 'Hi! I am looking for eggless cake.'
Personalized offers or recommendations.
Single Product Messages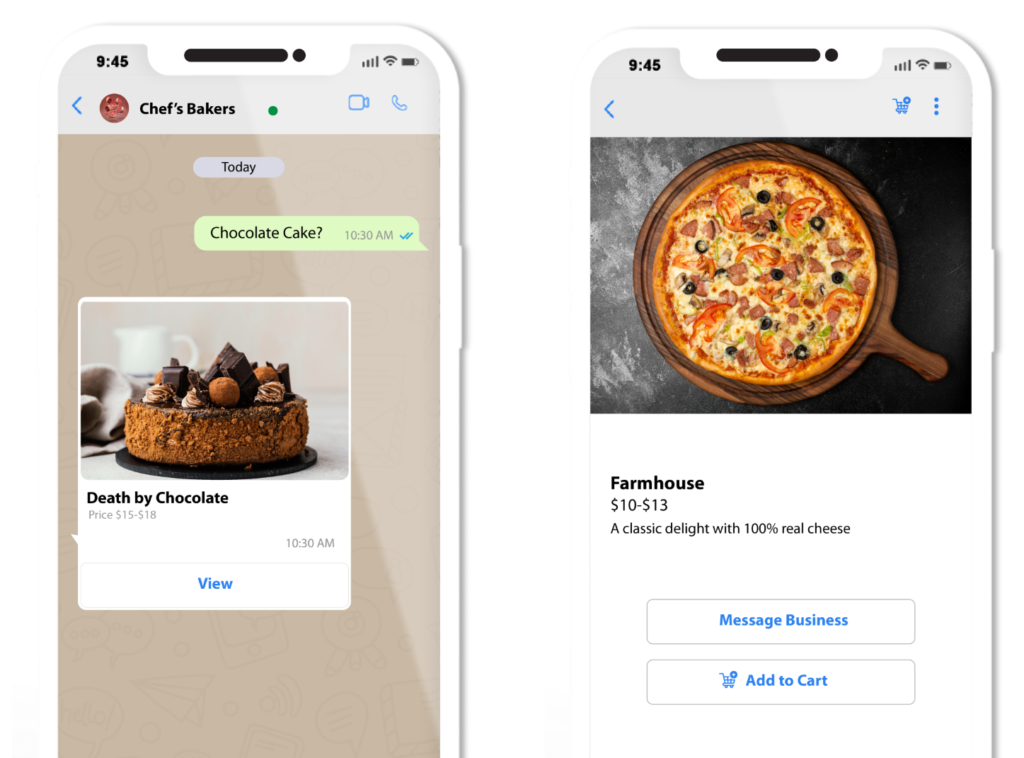 Single Product Messages contain a single product item from your inventory. These are best used to showcase one specific product or service to a customer, offering quick responses from a limited set of options, such as:
Responding to a request ("chocolate cake?")
Reordering an item ("Re-order Pizza")
Receive responses from customers from interactive CTAs
WhatsApp users receiving a product message can perform four different actions.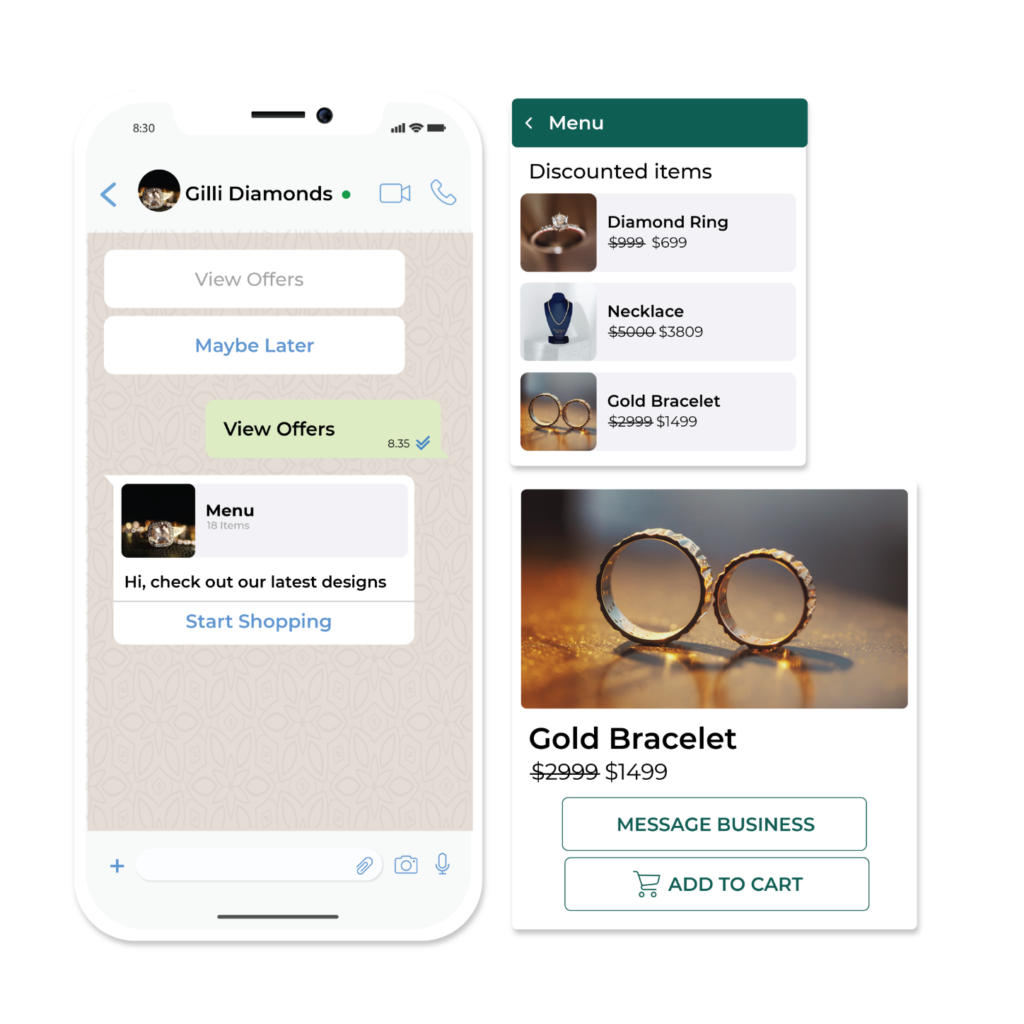 View products: Customers can click the view products button and the entire catalog along with the product description and pricing gets displayed right on the Product Details page right within the WhatsApp platform.
Add product to the shopping cart: While browsing through the catalog, if your customer likes what they see, they can add that product or service directly to their shopping cart. The cart has no expiration date, they can keep on adding items on their own time —until they're ready to buy.
Send shopping cart to the business (place order): Once a customer is done adding items to their cart, they can send the cart over to the business by clicking on the Message Business or a similar CTA. After this, they can make no more edits. The business can then either send more information or inform them about payment options.
Forward product messages to other users: Customers can recommend your products or services to their friends by sharing the product message on WhatsApp.
Whether you are a startup exploring new engagement channels or an established business with a long list of items for sale– WhatsApp is something that needs to be in your arsenal. Make your WhatsApp outreach even more powerful with Factoreal's incredible automation capabilities, and watch your conversion rate go up like crazy.
Take advantage of it today!