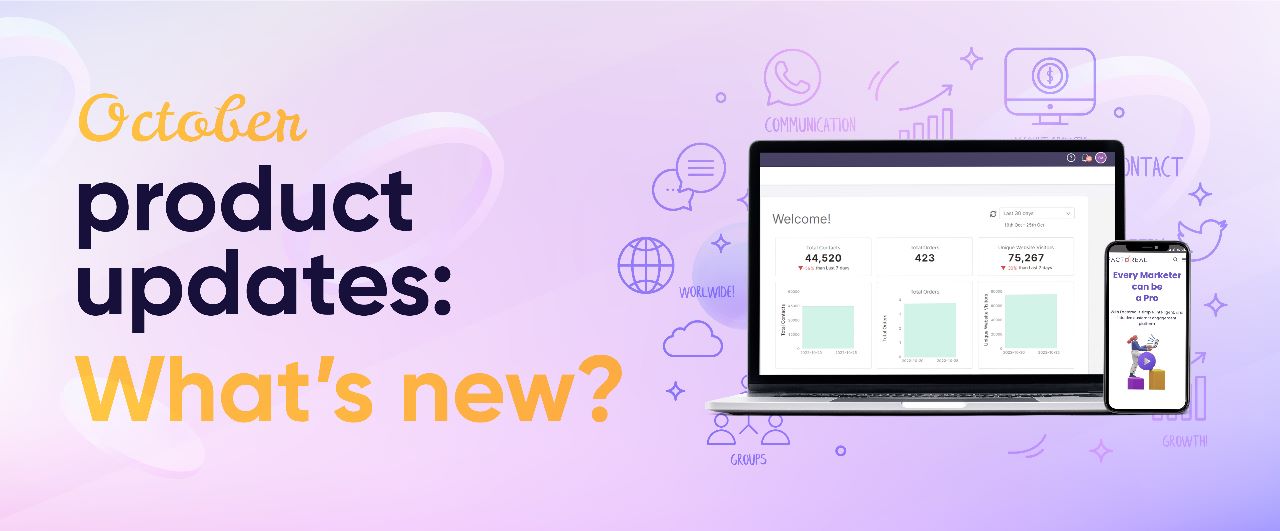 Streamlined UX design, built-in journey wizard with guided templates, and a free lite version bring multichannel automation to the masses
Jacksonville, FL – Customers expect personalized interactions from businesses, whether they're shopping online from a laptop or standing in line with a mobile device in hand. Marketers are tired of juggling multiple tools to manage those multichannel experiences. Now, marketers and their customers have a reason to rejoice, as Factoreal announced today that its comprehensive customer engagement platform is available with enhancements that make it easier and more affordable than ever to deliver hyper-personalized consumer experiences that increase ROI across online, on-site, social, and mobile channels.
Factoreal's announcement comes at a time when many marketers are struggling to connect with their customers in a rapidly changing world where they're being asked to meet higher expectations with fewer resources.  According to a recent Futurum Research report, 90% of companies believe they need better tools to crate and track their customer journeys. The shift toward digital and mobile experiences has made it challenging for marketing teams to maintain consistent, personalized engagement across multiple locations, eCommerce sites, mobile apps, email, and social media without relying on a host of standalone tools. Factoreal's Customer Engagement Platform "flattens" the martech stack by bringing all those tools together into a single solution and wrapping automation and orchestration around those tools to deliver hyper-personalized experiences from a single, simple, and seamless point of control.
Factoreal's customer engagement platform features a broad palette of marketing tools that includes a goal-driven journey wizard, email and text automation, social media and display ad management, web and mobile push notifications, machine learning insights, customer journey automation, segmentation/audience building, and much more. Today's announcement unveils new capabilities and packages that make Factoreal's technology, accessible, usable, and affordable to everyone:
Simplified user experience that includes easy-to-follow onboarding instructions and illustrations plus improved user interaction and support powered by artificial intelligence to adapt to the way you work
Prebuilt campaigns and goal-based, guided templates (aka Journey Wizard) that allow marketers to quickly create richer customer journeys and manage them effectively across channels, based on desired outcomes and goals.
Free and fair pricing models that enable marketers to try out Factoreal for free (and stay that way if they're a light user) and pay for the additional modules they need and the number of active customers in their database (versus bundled solutions that make you pay for everything and everyone)
"The digital transformation of the last few years is forcing companies to re-think their marketing toolset," said Aditya Dhruva, CEO of Factoreal. "Our goal is to put new tools into the hands of small and medium businesses so they can evolve from piecemeal marketing to a rich customer engagement platform that's affordable and simple to use, yet powerful enough to scale as they grow their business. The new features and enhancements we've added today make it easier than ever for businesses of any size to deliver great customer experiences."
Customer engagement platforms are the future of marketing. Professional sports teams are using them to keep fans engaged not just during the season but throughout the offseason. Retailers are using them to stitch together experiences that create customer loyalty. And small and medium businesses from all industries are using customer engagement platforms to build stronger relationships with their customers based on first-party data and interconnected, omnichannel experiences.
As Steve DeLay, owner of the Macon Bacon and Florence Flamingos baseball teams, notes: "Factoreal's combination of email, texting, and social media tracking all on one platform for a reasonable price was exactly what we were looking for to increase ticket sales and social media engagement."
To learn more about Factoreal's customer engagement platform, talk to us.
About Factoreal
Factoreal is committed to bringing the value of customer engagement platforms to every business through its industry-leading, SaaS-based automation solutions. Designed for simplicity, security, and seamless integration, Factoreal's martech tools and services help brands and businesses deliver consistently excellent and highly-personalized customer experiences across all their marketing channels. Our employees are passionate about customer care and that passion is reflected in multiple customer success stories that have led to our being named one of the Top 500 fastest-growing SaaS startups in the world. The company was founded in 2019 after being incubated in the research arm of its parent group and global technology leader, The Mahindra Group.