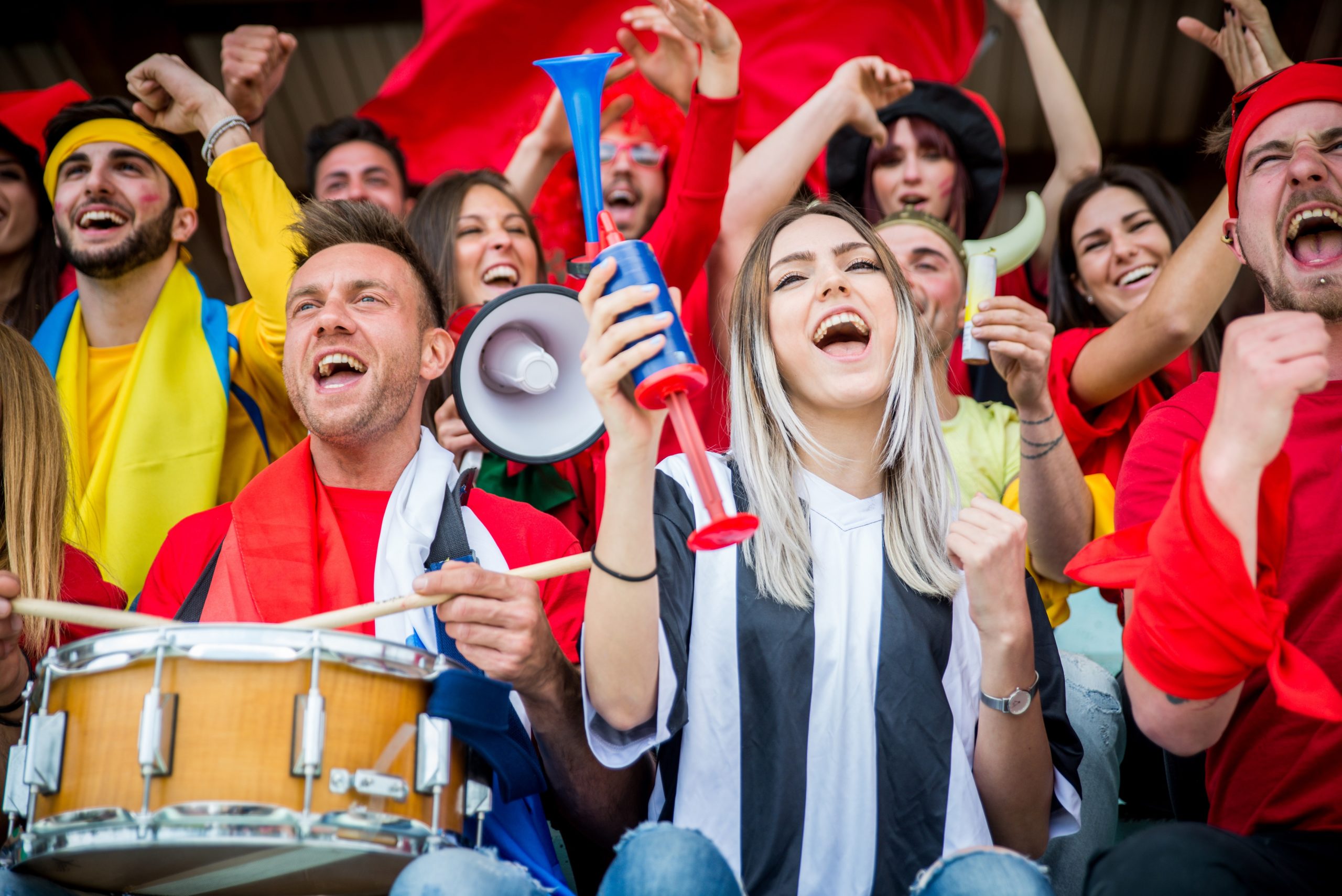 Imagine organizing a huge event at a popular public venue, but your entire staff is bombarded with questions from attendees before, during, and after the game –
Where can I buy tickets?
Who is the keynote speaker?
Where can I park my car?
How do I check-in?
What are the timings of the event?
Where is the restroom?
What is the WiFi password?
How do I make a reservation?
I am a volunteer. Where do I go?
Accommodation options?
How do I set up meetings?
When is next year's event?
To run a smooth event, it is necessary that some of the staff is freed up to focus on other organizing tasks. At the same time, it is also essential to respond to all guest queries to ensure maximum registrations and eliminate the communication gap between attendees and the actual event. What would you do in such a situation?
Well, AI-powered chatbots are to the rescue! Chatbots have become the go-to way of interacting, assisting, and offering tailored services to attendees for various events. Not only do they offer AI-backed insights and automation opportunities, but they are also cost-effective as they free up a lot of human agents to tackle more complex conversations. Chatbots can be embedded on the event website or can be integrated into WhatsApp or SMS to reach attendees directly in their preferred channels. These omnichannel chatbots can help you elevate your event and venue experience and make sure it's a memorable affair for all your attendees.
How to make your event chatbot a success?
To ensure the success of your event/venue/arena chatbot, you must strategize in advance and plan the content and flow of conversations. For this, you must be able to predict and understand the needs of attendees. Here are 5 features that will make sure your bots work to your benefit:
Easy to use:

Your event chatbot should be user-friendly and intuitive to be able to ensure easy interactions and respond to queries effectively.

Secure:

It's essential that your chatbot is secure and encrypted to ensure the data privacy of all attendees.

Accurate:

Make sure your event chatbot provides the most accurate answers to attendees in real-time.

Scalable:

There will be peak times when there's an influx of queries and requests from attendees. Make sure your chatbot is able to handle this influx and also manage a huge amount of data at the same time.

Customization:

Use AI and machine learning to update the chatbot to keep it relevant to new information and queries. Make sure you can customize it to adapt to changes.
Event Chatbot Use Cases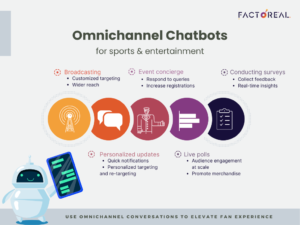 Here are a few use cases for omnichannel chatbots to elevate your event experience:
Broadcast globally:

Chatbots can increase the reach of your event on a global scale through pre-event promotions, live streaming, customized targeting, and broadcasting their event-related content to a huge user base globally. Many users prefer getting things done via chatbots rather than downloading a separate app to browse content and discover events.
2. Event concierge:
Event chatbots can provide easy and on-the-spot digital assistance. These bots can respond to multiple queries at the same time, round-the-clock; offer tailored solutions, handle intelligent searches, take bookings or registrations, and even seamlessly transfer to a human agent for more complex inquiries. They can help attendees check-in before the event and help them with directions to get to the venue. Bots can also act as virtual ushers to guide customers to their seats so that they don't have to wait for a human agent to do that for them.

3. Audience engagement:
Chatbots can be used to communicate with audiences at scale. You can integrate chatbots across social media platforms to skyrocket audience engagement and see better clickthrough rates. Use chatbots to drive awareness about the event with teasers and promotions. You can also promote your services or merchandise through bots. During the event, run live polls with attendees to increase engagement, excitement, and energy.
4. Personalized alerts:
Once people select their preferences or better still, sign up for an event, chatbots can use this data to anticipate their interests and send them personalized alerts, event updates, reminders, schedule greetings, product recommendations, communicate safety instructions, provide venue maps, share feedback requests, and much more!

5. Event registration:
People can use chatbots to look for tours, workshops, and events by preference, location, price, date, etc. You can handle multiple bookings and event registrations, seminar seats, as well as newsletter subscriptions through chatbots. This doesn't just work well for attendees. For organizers too, bots can help keep track of ticket booking easily by storing and segmenting data.
6. Networking opportunities:
At events, chatbots can facilitate networking and allow attendees to connect and converse with each other, based on their interests and requirements. Chatbots can also help attendees find new contacts and share invitations to various networking sessions.
7. Collecting feedback:
Bots can improve the post-event experience for both attendees and organizers by evaluating data. Chatbots can share survey forms with guests to collect feedback, analyze it, and help educate event planners about the guest experience.
Why use chatbots for events? 
Chatbots come with plenty of benefits for events, venues, and arenas to interact with audiences directly. Here's a look at a few benefits of using event chatbots:
Ease of information:
Chatbots can provide attendees with all event-related information before, during, and after an event.
Consistent messaging:
Once you have planned your promotional campaign and user journey, chatbots can help you with consistent, relevant messaging to your pre-defined target audience.
Saves effort:
When you deploy chatbots to answer multiple queries and interact with audiences directly, you free up your human agents from monotonous and similar conversations, thus saving their effort and diverting it to more complex questions or other tasks.
Less waiting time:
Since chatbots can chat with anyone, anywhere, at any time of the day, attendees don't need to waste time to be patched with a human agent or for an email response.
Powerful engagement techniques:
As chatbots enable instant responses in the audience's preferred channels and come with a plethora of content format options such as audio, video, image, gifs, text, live streams, polls, forms, and more, they can engage with the audience more often and hold their attention for longer.
Provide valuable insights:
Event chatbots can provide valuable insights into attendees and their preferences and overall experience. This can enable event organizers to create a more tailored experience for the audience.
It's easy to see how chatbots can transform your event experience by boosting conversations, improving engagement, sharing event highlights, and creating high value for all attendees in real time. You can now build omnichannel chatbots with an easy-to-use bot builder with Factoreal. Start your chatbot journey today. Talk to us to know more.
Learn how to redefine the fan experience with chatbots. Get an alert when we post similar articles.