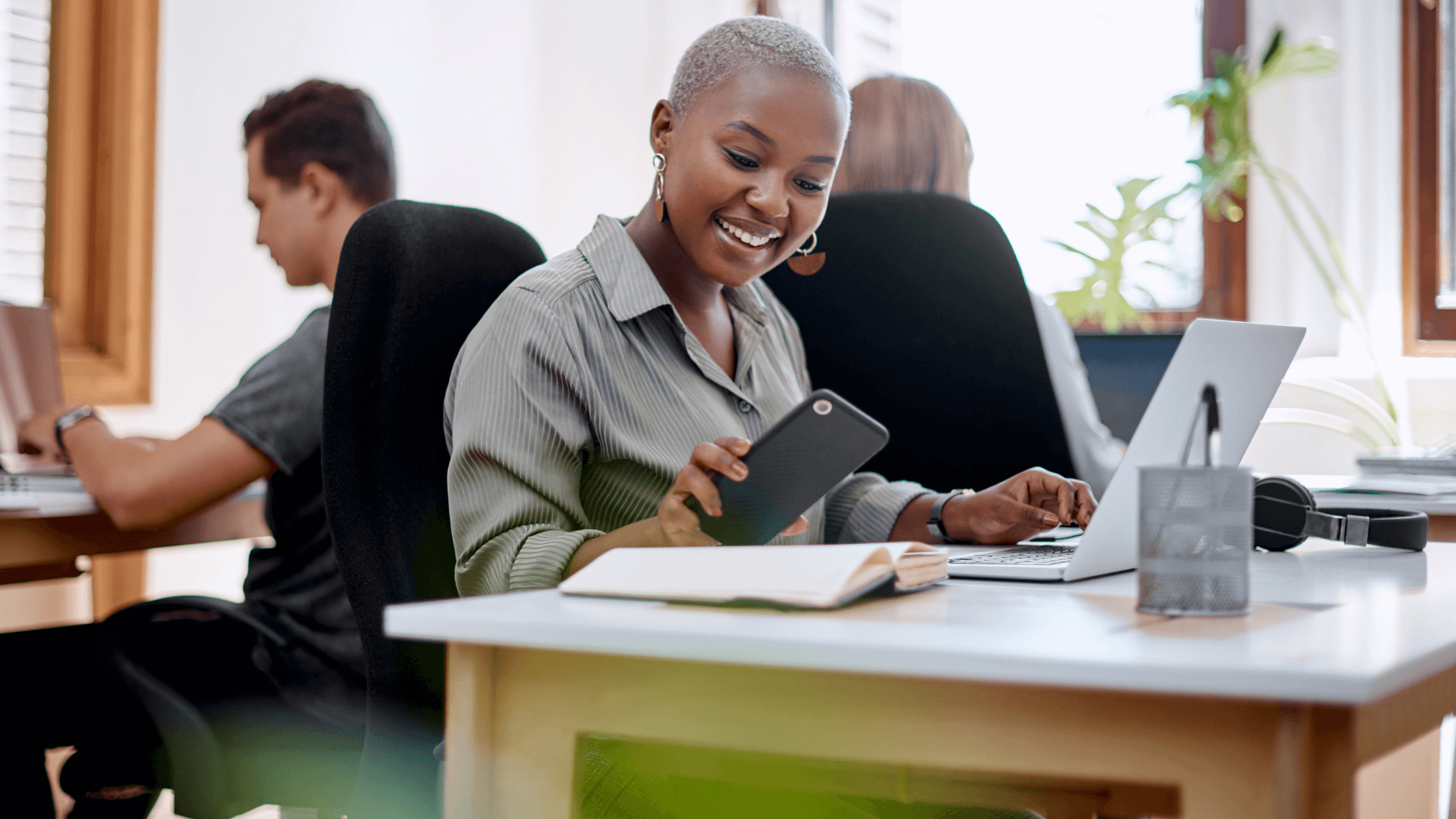 So visitors have installed your app or begun perusing your site. But what happens now? How do you engage your audience and keep them coming back? The answer is push notifications. Whether web-based or in-app, these messages are proving to be the communication method of the future. Push notifications offer a broad reach and generate a high ROI for businesses in all sectors. Plus, single opt-in notifications increase sign-up rates by up to 600%.
The benefits of push notifications are numerous, and so are the strategies you can use to employ them. Fortunately, if you need inspiration for your next campaign, there are plenty of cleverly designed push notification examples to learn from.
1. Ora Organic: New Product Launch
Presenting a new product to your audience doesn't require an announcement that's paragraphs long. Sometimes it can be quick and straight to the point. Cosmetics brand Ora Organic cut to the chase in their notification, answering two crucial questions — "what" and "why."
Though simple, the wording successfully piques customer interest as it promises to solve their known pain points. It shows you that sometimes less is more, and subscribers will still get the message.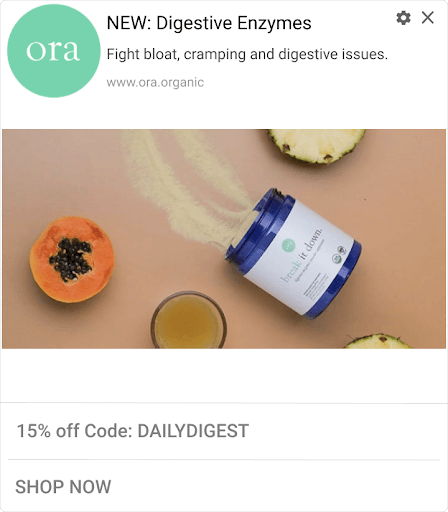 Image source: PushOwl
2. H&M: Recommendations Based on User Behavior
Apps collect vast amounts of customer data, but how do you use said data to connect with your audience? By using it to make recommendations.
H&M shows mastery of this concept in their push notification campaigns. By using a customer's previous purchase history, the brand's mobile app automatically makes recommendations for other items that might pair nicely with it. For example, if you order jeans, the app will suggest shoes, tops, or jackets to compliment your outfit.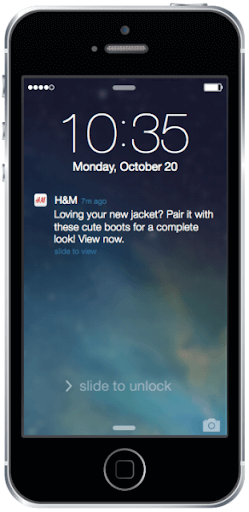 Image source: Huree
3. The Bump: Maintaining Engagement
For mothers-to-be, nothing is more exciting than experiencing their child growing in real-time. Fan-favorite pregnancy tracking app, The Bump, understands this and uses push notifications to continuously connect with users.
This mobile app keeps expectant parents engaged by sending messages that update them on the size of their baby. Notifications come complete with size comparisons and tips on what to expect during each week. If your app requires users to engage frequently, you can use helpful, brand-relevant hints to help them stay engaged and in the know.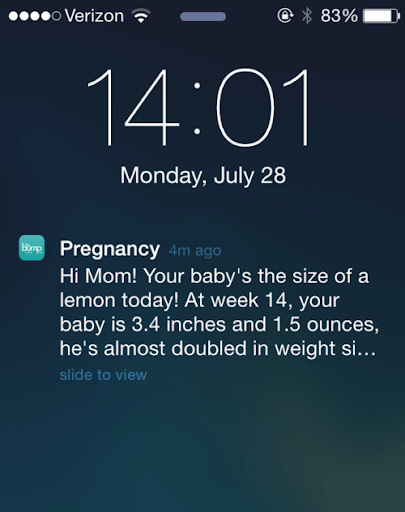 Image source: Tumblr/Localytics
4. QuizUp: Re-engaging Lapsed Audiences
Industry experts say that 25% of users are likely to delete an app after a single use, while others delete it after 5.61 days. But what about users who use your app for months, then suddenly stop? Thankfully, these users typically don't uninstall their unused apps. This gives you the chance to re-engage those lost customers. 
Mobile trivia app QuizUp expertly grabs users by sending a clever and humorous re-engagement message. Sending such messages is excellent for reminding users why they enjoy your product or find it valuable, assisting with customer engagement and retention.
Depending on the purpose of your push notification, you can offer discounts or new features to help users regain interest in your product. Still, as you're crafting your campaign, be mindful not to pester users or come off desperate with overdone messages like, "We miss you!"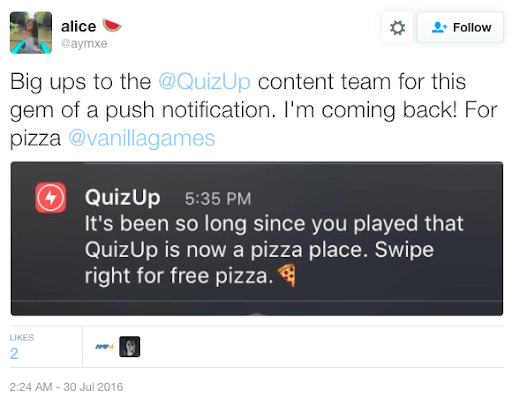 Image source: Leanplum
Factoreal
Keeping your users engaged is a challenge for most businesses. However, taking inspiration from the power of these push notification examples can help you connect with users in clever and impactful ways. And incorporating a customer engagement tool is a great way to streamline your notifications and expand your customer reach like never before.
Meet Factoreal. Our easy-to-use, all-in-one omnichannel software enables you to manage your different campaigns across multiple marketing channels and grow your business at speed. To learn more about our services and how Factoreal can help your business, contact our team today!