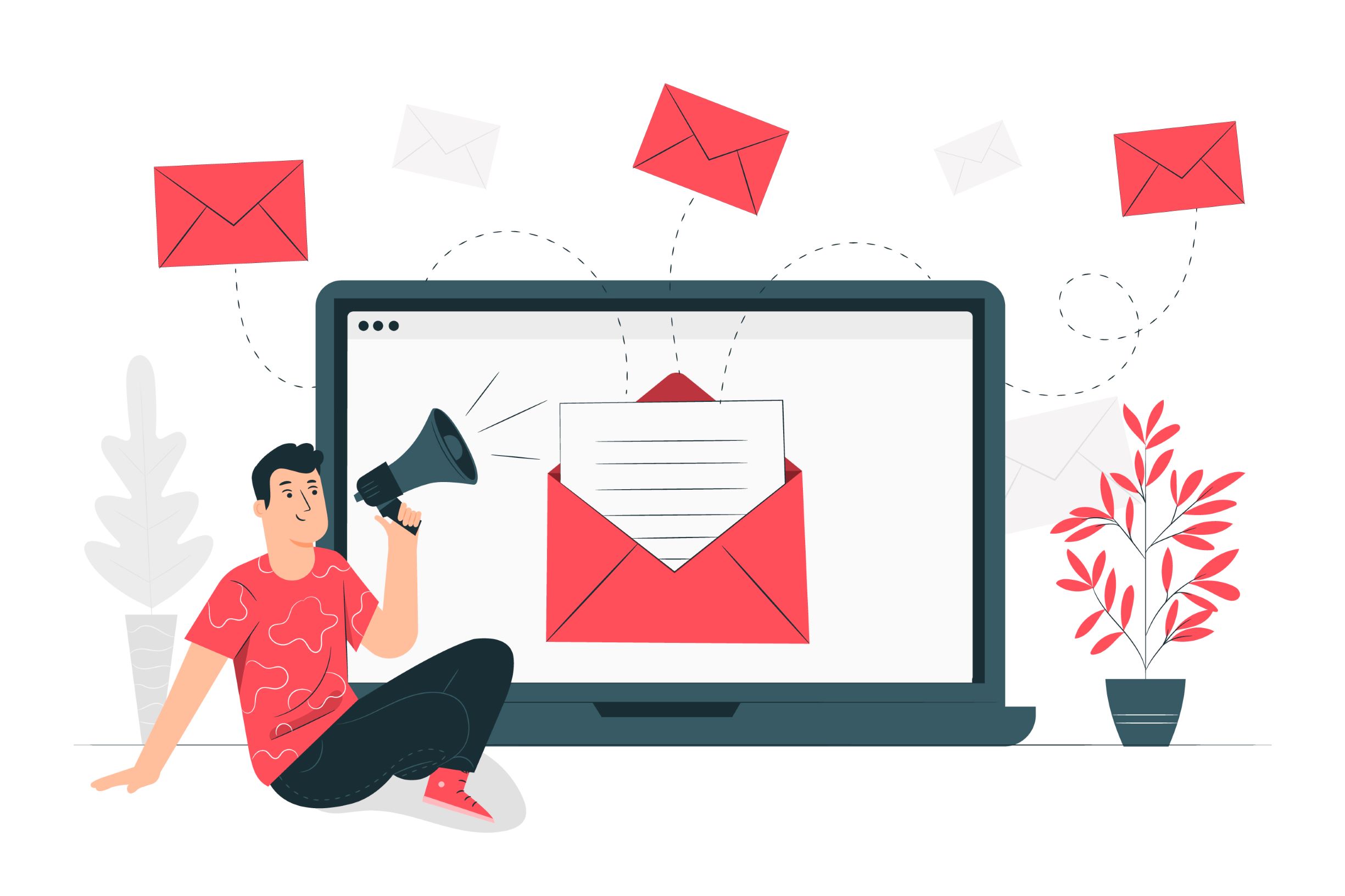 For a business, email is one of the most important customer touchpoints. It's not only useful to reach out, but it also helpful after leads become subscribers. Subscribers get the latest information about your business and frequent updates in the form of email newsletters.
So, what's the problem?
Not all your subscribers join at once. There are old subscribers and there are new subscribers. You get new subscribers every day, every hour even. The problem is subscribers get the emails you send after they have subscribed.
It's as if someone watching a movie 25 minutes after it has started.
And what's the solution?
All behold- the email drip campaign, aka drip mail, alias lifecycle mails. Drip campaign brings a much-needed structure to what emails your subscribers receive. It's nothing but a scheduled method of automatically sending extremely relevant emails to subscribers, no matter new, or existing ones.
A systematic approach with personalized content is the key focus here. When somebody subscribes, a new mail is sent to the subscriber. Thereon, the subscriber receives a bi-weekly mail, a monthly newsletter, and so on. They are called drips because of the pre-written content that is tailored for the receiver.
These emails, unlike traditional broadcast emails, are personalized, automated and sent to your segmented audience base, so that different types of audiences get emails specific to them.
Drip campaigns are one of the most efficient and simple ways to effectively communicate with your prospects and subscribers alike; because of its higher open rates, you are likely to get higher sales with the help of a drip-email campaign.
What is unique about Drip Campaign?
Unlike traditional emails, drip emails have a predetermined course of arrival. Subscriber behavior and action are the key triggers to receiving a particular mail.
If it doesn't sound too special, think again. When you get new subscribers every day, how far along can you keep up with the email charade?
With that, let's get into the basics of the Drip campaign.
What are Drip Email Campaigns?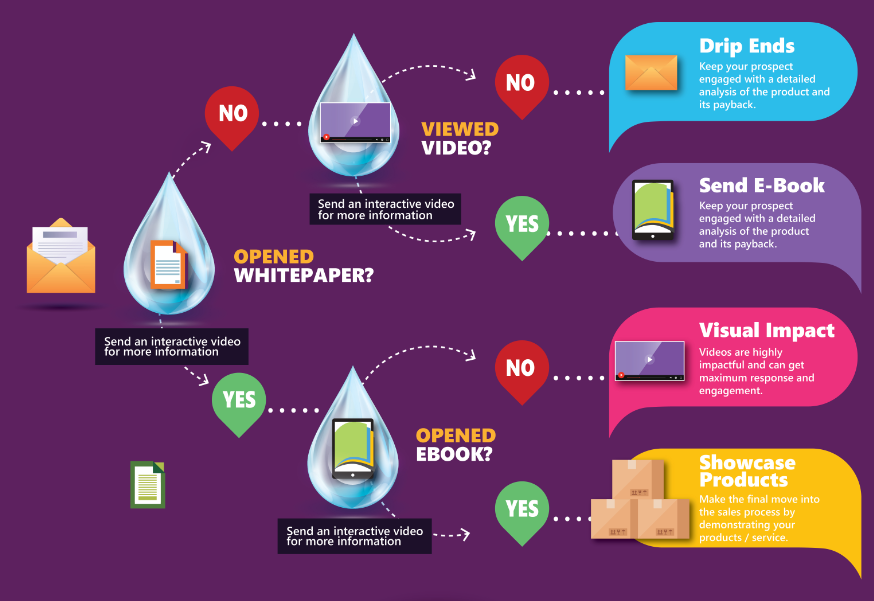 Think of drip campaigns as the right thing happening at the right time. Drip campaigns get sent on a schedule. Creating a set of emails and strategically sending it out at the right time or after the right trigger is what drip mails are all about.
The unique ability of drip campaigns is in its' ability to identify the different stages your audience is in, and send different emails to them accordingly. This builds trust amongst the audience, which wouldn't happen if all your audience were subject to a generic email blast.
Say you create a drip campaign for new subscribers. The initial email would be welcoming them as soon as they sign up to your mailing list. The next mail would be sent a few days later, as they start to explore your product features. This mail would showcase your features and how to use them effectively.
If they show interest in the second mail, they would receive a third mail shortly that gives them a small discount on your premium service/product.
With Drip campaigns you can assort your subscribers into different funnels. What's the benefit of doing this?
Your top customers get a piece of content that's relevant to them, very different from what a new prospect who has just subscribed receives. It makes your audience feel valued, because it personalizes the content sent to them, so what they want is what they get. How does that help you?
Drip emails get a click rate that's 119% higher than regular broadcast emails.
How to set up Drip Email Campaigns?
Drip campaigns are just automated email campaigns after all. If you're someone who's been sending out emails with a measly single-digit open rate, then drip mails might be what you need.
You know how everybody has a great idea for the next big thing, but most of them won't actually work. The same applies to drip campaigns. You need to have a proper plan in place to see good results from drip campaigns.
This is a checklist of things to do before jumping into the drip email campaign bandwagon.
Who is my audience?
This is something you should be absolutely clear about. You can't have a generic audience. Details, be very specific about your audience. Is it the ones that haven't used your product in a while? Is it the ones that abandoned cart? Or is it the ones that purchased the product?
This clarity is vital to the performance of your drip email campaign.
Content is king
Your product/service is your pride. It should represent your brand. So should the message you're sending out via the drip mail to your audience. You should be crystal clear with your content for the drip marketing campaign. It should resonate with your audience.
Email Quantity and Triggers
How many emails can a subscriber expect in the given drip email campaign? Be clear about this information, since the subscriber probably gets many emails and you don't want your drip mail to end up in the trash or even worse, the user unsubscribing from your email drip campaign.
Your drip campaign triggers have to be very concise. Is it about informing your customer about new product features? Or is it about pushing your customer to go for the premium subscription? Or do you want current users to extend their premium subscription?
If you've taken care of these details, and have a solid plan in place with your target audience sorted, you can start with your drip campaign.
How to carry out a drip-email campaign?
With the abundance of tools and technologies at your disposal, there is a real challenge when trying to choose the best software or tool for your business.
Multi-channel Marketing
Before that, there's something called Multi-channel Marketing. You've probably heard the term used everywhere, but why is it relevant to a drip campaign?
Any business today has an online presence, no doubt. It's a necessity. By online, it's not just your website, it's also your social media channels. Social media presence is critical for a business to strengthen its brand image and engage with followers.
Be it Facebook, Instagram, Twitter, or Linkedin, your mailing list subscribers are mostly following you on social media too. So it's vital that you replicate the experience in all these channels along with your drip email campaign because your audience will easily identify your brand, which creates a special connection that is required to improve their trust.
This can be done with the help of Marketing Automation tools. More on this in the conclusion.
Building Trust via relevant content
This is one of the crucial aspects of lead nurturing leads. Sending relevant content to your audience is very important. Segmenting your audience and sending what they want earns their trust which is required in the long run.
Once the trust is established you can be their go-to source for information. At this point, you'll be an industry standard!
Here is a great example of a very well done email campaign by Bonobos, a clothing company.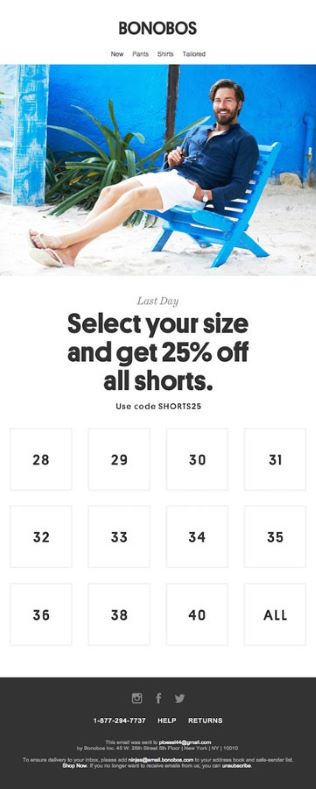 Look at how simple the email is. The purpose here is clear. A simple response to the Call to Action (CTA) is the only requirement from the customer. Talk about upping your click rates and getting a sale, it's that simple!
It's not possible for every type of business to draft email campaigns like this.
But the key takeaway here is to keep things minimalistic and have relevant content. In the above email campaign example, the personalization aspect is addressed too, with the options of sizes for shorts.
With an email drip campaign, you can segment your audience based on their online behavior, and send only relevant content to them, so that they are most likely to click the CTA button.
Provide value proposition to your audience, or else they will consider you as someone disconnected from them. Generic content will only get your email campaigns in the trash and your competitors will scoop up your audience in no time.
Lead nurturing
50 percent of your leads don't buy right away. That's a huge number. What's your next course of action?
Lead nurturing. But why? You can target a new audience, instead of wasting time on the 50% that don't buy right?
Out of the 50% leads, up to 47% of them, if properly nurtured will make purchases larger than the ones who bought immediately. That's the power of developing a relationship and gaining the trust of your leads via properly done email drip campaigns.
After all nurturing means taking care of someone or something. Customers are extremely valuable to your business. So, are you willing to make that commitment?
Lead nurturing not only increases your sales, but it also does so by minimizing your costs. Companies that effectively implemented lead nurturing 50% more sales at a 33% lower cost.
So, what should be your lead nurturing strategy?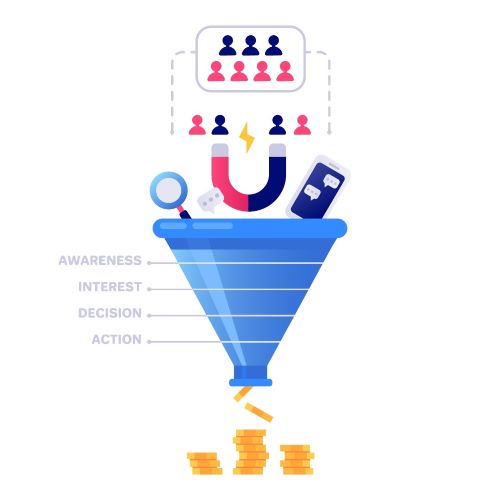 Understand their interests, make it your priority
The biggest mistake many people make during sales is not adding empathy to the whole equation. Hurrying a lead to make the purchase is never going to work. Treat the sales process with a problem-solving approach.
The problem-solving approach sidelines the typical 'sales attitude' for a while and focuses on building a good rapport with your audience. The trust part doesn't stop with personalized content in your email drip campaigns.
Give inputs based on what would be ideal for their problem scenario. Don't just think about upselling, because this is the information age, and customers are more informed than ever, so fooling them is only going to hurt your business in the long run.
Being upfront and honest is the best way. Helping them with the goal should be your priority. It is that simple. The trust will translate into sales.
Scheduled follow-ups at the leads' convenience
All the organic search, click rates, open rates, and being on the first page of Google results won't automatically translate to sales. Lead nurturing also involves frequently being in touch with your leads. They might be busy when you first contact them. Contact them via email at a different time.
Also, with all the automation, there is a dire need for the human touch in these automated chains of email drip campaigns and scheduled social media posts. Only then can you establish a good rapport with your leads.
Offer your leads a value proposition
Personalized content helps you draw an audience, but it also helps you understand them, understand what attracted them, and helps you segment them in your sales funnel. Such segmentation makes the process for the sales team a lot easier.
Offering something extra to your leads is a great step towards converting them into a sale. Leads might be unsure about the value your product offers. So it's common for them to be skeptical at first.
Break the ice by offering them a free demo, or a free trial for 7 days. This will help them analyze your product and also help you help them with their problem. No amount of advertising in the world can help you do that.
Email retargeting campaigns

When you have contact details of your leads, you are not limited to email.
Social Media is a great touchpoint, where you can effectively target your leads with ads. These would be the leads that you classified as the ones that are possibly interested in the next phase of their customer journey.
Facebook Messenger ads are a good place to start. When you know these leads are interested in the next phase, spending money on ads is justified as a part of their customer journey.
As for the drip emails, it is important to address them by their name. This makes the message feel more personal, again, in an automated tech ecosystem of today. It's also important to send the drip mail from a real person's account.
Nobody wants to see a mail from info@xyz.com or marketing@abc.com in their inbox. The personalization element is a nice touch. It's also important to have a personality when talking to your subscribers.
It is better not to sound like a corporate mouthpiece, and let your persona speak, this will help you excel at lead nurturing, which makes the reader of drip emails feel like there is a person behind this, not an organization.
Conclusion
Buyers' Journey. That's the term businesses need to acquaint themselves with. The sales process is frowned upon the thing and brings a weird vibe to many leads.
Buyer Journey is achieved via a structured lead nurturing process.
New subscribers may need to learn more about your product. Don't push each of them to buy. Send them educational materials via your email drip campaign. Send them newsletters, and case studies so that they can get a better understanding.
Once the sales process is done, don't forget the ones that have on-boarded. Make them feel welcome by trying to understand their problems. Send them videos, and newsletters about how users are making the most out of your product.
Most importantly, don't make them feel ignored once the sales process is complete.
Because that is what helps with the long term process of maintaining rapport with your customers.
As for drip campaigns, there are multiple email marketing tools you can use. But you should be doing multichannel marketing alongside your drip campaign. This is called Omnichannel Marketing, which is one of the best options to improve the customer journey.
Want to know how Omnichannel Marketing can improve the customer journey? Click here
Your best bet is a good Marketing Automation tool that can not only carry out drip email campaigns and omnichannel marketing but also integrate them in one place for an easier and efficient work process, thus minimizing cost and maximizing your revenue.
You can find marketing automation tools for small businesses, which can eliminate the need for multiple tools. Marketing Automation solutions can also help you with your multi-channel marketing, email drip campaigns and lead nurturing campaigns!
What is your experience with the drip campaign? What would you consider best email drip campaign practices? How has it impacted your email campaign?
Let us know in the comments!
Sources-Gleanster research, Myemma